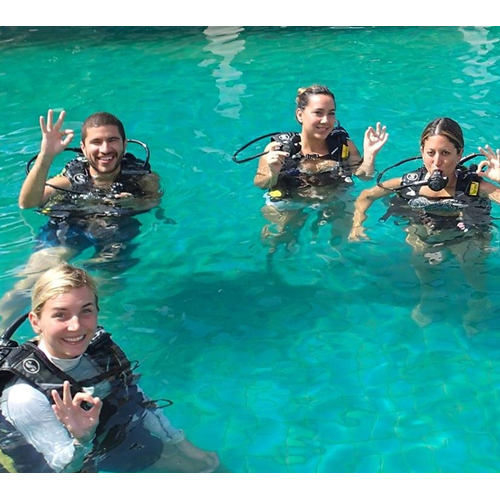 PADI
Open Water Diver Course
Stock No. OW
PADI OPEN WATER DIVER COURSE
The all inclusive course price is $629* Additional fees for: Private Lessons $300, 10 & 11 year olds $300, transfers and makeup fees may apply as well.
(This covers instructor fees, 5 Pool dives, 4 Open Water dives, Elearning-accessible forever, Crewpack, SMB, Slate, log book, Emergency whistle, Scuba Kit Rental Gear: BCD, Regulator, Octopus, Computer, Compass, Wetsuit, Hood, Weights/Weightbelt, Air Fills, Pool Fees, Certification Card, etc.)
(Personal Gear Package) Students also need to own their own Personal Gear $180 and up (Mask, Snorkel, Fins, Booties, Gloves) $50 credit towards this purchase for our students! These packages vary greatly, and should never be purchased online, as they need to be properly fitted by a Dive Professional, and need to be Life Support/Scuba Quality. We want to make sure your diving experience with us is #1! Any gear you purchase for your class that does not meet your needs or fit properly, will be exchanged for you, prior to your open water dives.
---
October 2023
Mon
Tue
Wed
Thu
Fri
Sat
Sun

1

2

3

4

5

6

7

8

9

10

11

12

13

14

15

16

17

18

19

20

21

22

23

24

25

26

27

28

29

30

31
---